"AquaLiv Cured My Magnesium Deficiency"
What you will learn in this article...
Magnesium deficiency is commonplace but rarely recognized

Reverse osmosis water filters cause magnesium deficiency

Magnesium is vital to every organ in the body

The symptoms of magnesium deficiency

AquaLiv Water Systems do not remove magnesium and even add more
"Our family had a very unfortunate experience with the reverse osmosis filter we installed earlier this year (we did not know it was depleting all of us of magnesium until we started exhibiting symptoms of magnesium deficiency a few months later). We took a chance and pulled the trigger on your product, then we sent water samples to an independent lab. We received the results today and I'm so, so glad to see them. I feel much more at ease and very satisfied with the water my family is drinking now! Thank you. And I forgot to add that I have a B.S. in environmental toxicology, with an emphasis in water quality. So you can imagine how important it is to me to have clean, healthy drinking water!"

— ASHLEY CATES, MERIDIAN, ID
Is your water filter making you dangerously magnesium deficient?
Reverse Osmosis water filters work by removing greater than 99% of dissolved substances from water. The water produced is clean tasting, without smell, and without harmful contaminates- a perfect glass of water, right?
What you may not know is that along with contaminants, key beneficial minerals such as magnesium are also removed. And, the body needs these minerals from the water you drink. Minerals in your diet are not a substitution. Drinking reverse osmosis water even flushes away the minerals from the food you eat. Most are unaware that their health issues are a result of magnesium deficiency.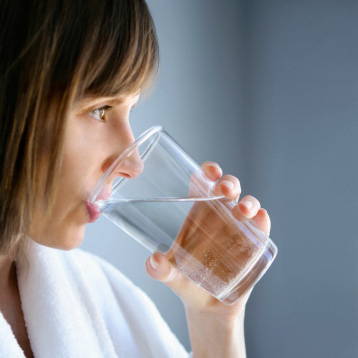 Recognize the symptoms of magnesium deficiency
Do you know the symptoms of magnesium deficiency? There are 22 scientifically proven medical conditions that result from insufficient magnesium levels including but not limited to:

Magnesium is vital to every organ in the body
The "miracle mineral" regulates over 300 functions in the body including your heartbeat, muscles, and hormones. It's estimated that around 75% of the population is deficient in magnesium. Inadequate amounts of the mineral may trigger 22 medical conditions including anxiety and diabetes. A water system should do more than just "remove stuff" from water. Water systems are supposed to improve your health!

The AquaLiv Water System is different
Unlike other filters, AquaLiv...

Removes contaminants without also removing the beneficial minerals

Uses ActivMag™ Technology to ensure the water you drink has a proper, naturally alkaline pH through the addition of trace amounts of magnesium

Preserves the beneficial calcium and magnesium Reverse Osmosis systems strip away
AquaLiv's unique 8-stage process leaves water toxin free and mineral rich
The AquaLiv Purification Module uses Activ8™ technology to remove contaminants without removing any beneficial minerals. It utilizes two varieties of coconut carbon block plus KDF-55, BC-Carbon, and ActivMag™ Technology to create contaminant-free and mineral-rich water.
AquaLiv is certified by a 3rd party laboratory to remove most chemicals including chlorine and VOCs without stripping naturally occurring minerals. AquaLiv also reduces water-soluble lead, mercury, nickel and chromium and also controls the buildup of bacteria, algae, and fungi.
ActivMag™ Technology ensures the water you drink has a naturally alkaline pH through the addition of trace amounts of magnesium at levels optimally utilized by the body.

http://www.cnn.com/2014/12/31/health/magnesium-deficiency-health/
http://umm.edu/health/medical/altmed/supplement/magnesium
http://articles.mercola.com/sites/articles/archive/2015/01/19/magnesium-deficiency.aspx
http://www.who.int/water_sanitation_health/dwq/nutrientschap12.pdf

People (and pets!) love AquaLiv Water
"Drinking AquaLiv Water in large quantities at one time gives a definite energy boost. I wake up feeling rested and dehydration is no longer occurring. My eczema condition has improved remarkably. The bloated feeling after drinking water is gone. This system is an outstanding invention. It shows a true understanding of what makes great water and covers ALL factors involved in returning water to its natural, clean, energy giving qualities. There is no valid competition."

"My wife and I have been using the AquaLiv Water System for a couple of months now… My wife has lost 8 lbs and I have lost 13 lbs. We both seem to feel more energetic and less fatigued…"

San Bernadino, California
"As for our results, they are really quite miraculous. I was diagnosed as a Type 1 diabetic... Once I started drinking the water, my levels dropped significantly. And, after only a few weeks of drinking the water, I was able to decrease my medication and still maintain my blood sugar levels where they should be."

"Hello, first I have to say I am in LOVE with this water! .. all my skin all over my body is clearer and glows. I even see my hair is shinier and eyes are lighter…"

When I invented AquaLiv Water I had no idea how much it would improve the health of those who drank it...until they began telling me.