90-day home trial. 100% refundable.
Free shipping in the USA & Canada.
Was $2500 for years...now it's much less.
Was $2500 for years...
now it's much less.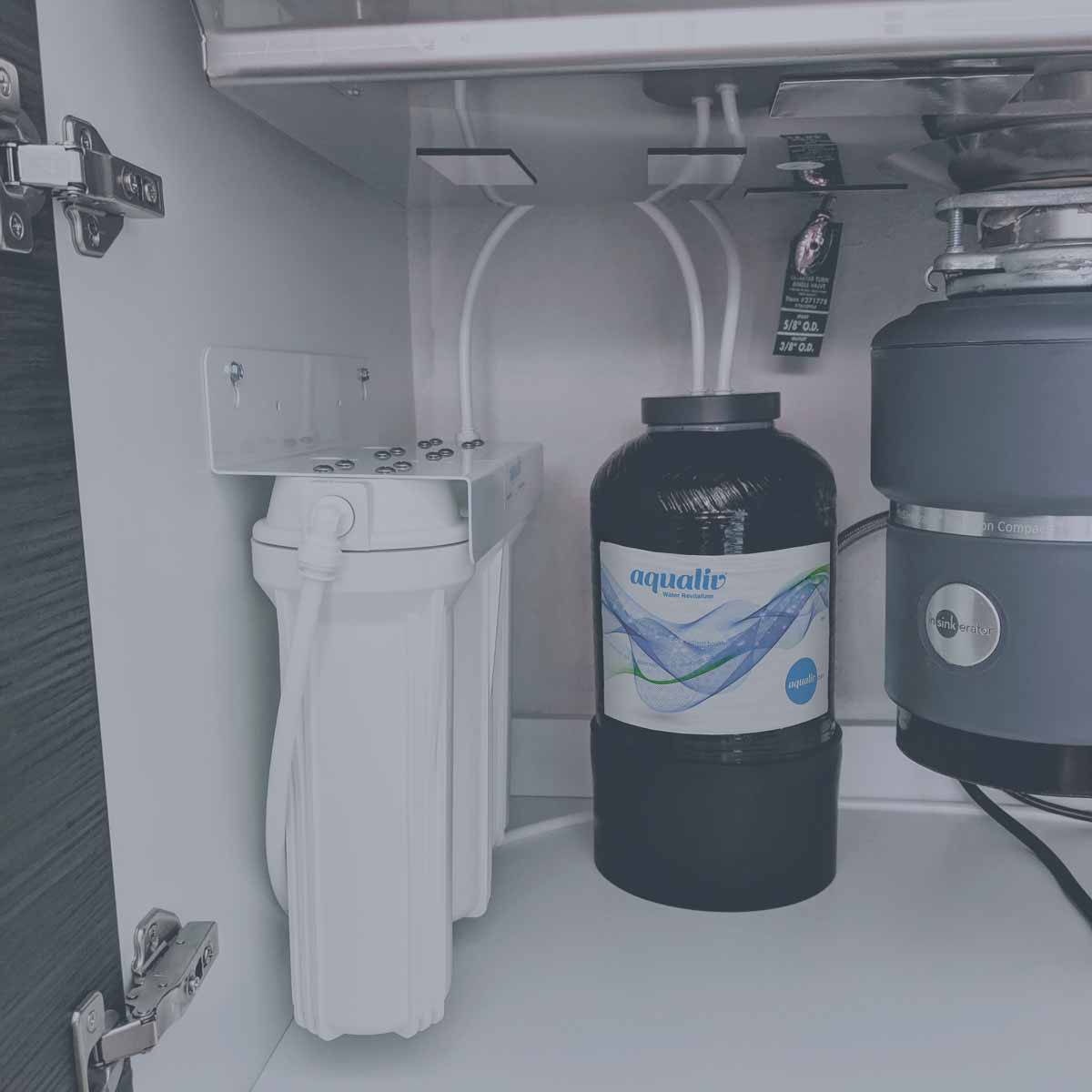 Your heading text goes here
The AquaLiv Water System installs under the kitchen sink and supplies water to your existing faucet (dedicated faucet options also available)

Only 'handy-person' skills needed
Connects in 20 minutes
Simple step-by-step instructions
Moving? Easy removal and reinstallation

AquaLiv Systems are constructed with NSF Certified Components to ensure safety
The AquaLiv System includes parts necessary for common installations
The AquaLiv System is designed and assembled by AquaLiv of California, USA
Promotions

Included Items

AquaLiv Water System
Selected Faucet
Filter Set FS300
Installation Kit for 3/8" OD Cold Water Connection

Literature

Maintenance

Filters - Replace Annually
Filters Cost - $99* Complete Set
(*$119 if not replaced annually)
Sanitize During Filter Changes
No Other Maintenance Required

Specifications

Filter Capacity - 1000 Gallons or 1 Year
Flow Rate - 1 Gallon Per Minute Continuous
Purification Module - 14" H x 15" W x 5" Deep
Revitalizer Module - 16" H x 7" Diameter
Warranty - 2 Years (Faucets 1 Year)
Faucet Type - Non Air-Gap
Designed & Assembled by AquaLiv of California, USA

Purification Medias

FluorGon™
Filters Fluoride, Chromium, Arsenic, Aluminum, et al
KDF® 55
Filters Lead, Iron, Manganese, Mercury, et al
5-micron Catalytic Coconut Carbon Block
Filters Chlorine, Chloramines, VOC's, Radionuclides, et al. Blocks particles >5 microns
0.5-micron Activated Coconut Carbon Block
Blocks particles & organisms >0.5 microns. Removes taste & odor


3rd Party Lab Certified

The AquaLiv Water System Model A305 was tested by Pace Analytical against NSF/ANSI Standard 42 for the reduction of Chloramine, Chlorine Taste and Odor, and NSF/ANSI Standard 53 for the reduction of Lead and VOC. Download the Performance Data Sheet for a full list of contaminants the AquaLiv Water System is certified against.

NSF Certified Components

Filters are certified to NSF/ANSI 42, 44, 53, 61, ISO 9001:2008 & 14001 - Filter Housings are certified to NSF/ANSI 42, ISO 9001:2008 - Composite tanks are certified to NSF/ANSI 44, ISO 9001:2008 - Tank heads are certified to NSF/ANSI 61, ISO 9001:2008 - Lead-free faucets are certified to NSF/ANSI 61 - pH adjustment medias are certified to NSF/ANSI 60 - Wetted surfaces of fittings and tubing meet NSF standards 51 & 61 as well as compliance with FDA requirements for direct contact with food as detailed in 21CFR part 177.2470 (body) and 177.2600 (o-ring) ISO 9001
Thousands have already switched to AquaLiv.
Why not experience it for yourself?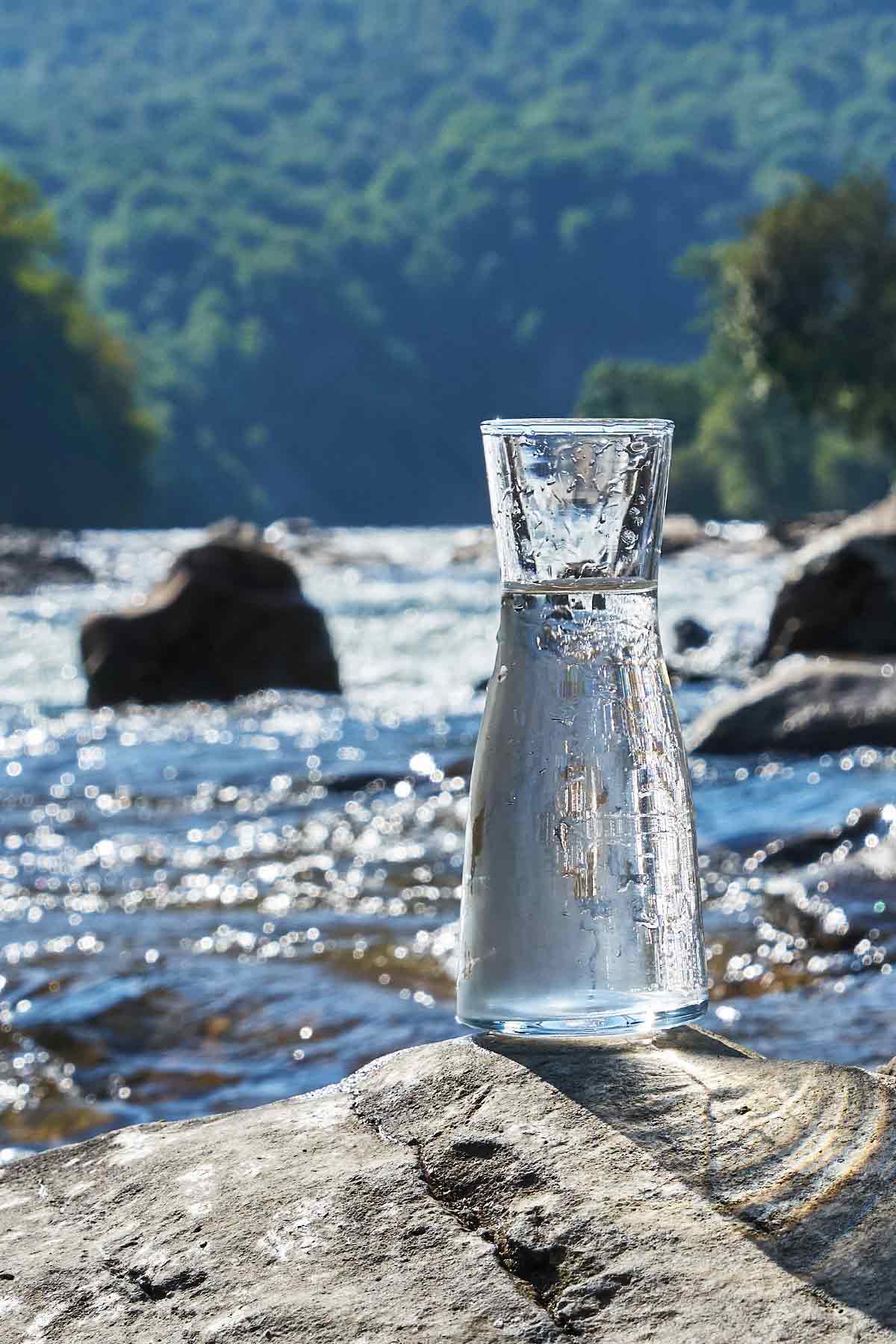 Nature intended for us to drink water with vitality. Water from fast-flowing springs and streams tastes lighter.


The AquaLiv Water System recreates the dynamics of a mountain spring.


The result? The best-tasting water you've ever had.
Get our newsletter and save $50 on the AquaLiv Water System*
Plus, all subscribers are entered to win a free AquaLiv System every month**
*Offer valid on AquaLiv Water Systems only, not replacement filters or other items. Must be new email subscriber. Enter your email address to receive a promo code in your inbox. **Kitchen faucet or Basic Chrome model. Winner must reside in mainland USA. No purchase necessary to win.